To purchase your gift voucher, simply contact the atelier, leaving your name and your contact number and email address along with the wording that you wish to see on the voucher itself. For example
"For Elizabeth, wishing you all the best on your birthday, The Windsor family. XX".
You will receive a return email with the made-up voucher attached, which will be validated by a bank transfer to the account indicated. You may also make the purchase at the studio using cash or EFTPOS, whichever is your preference.
The small print:
These vouchers are redeemable for Nick Leavey's scheduled weekly classes, tutored life drawing sessions on Wednesday, and any of the tutored life drawing sessions on Saturdays (morning, afternoon, or both). Gift vouchers can also be purchased for any other teachers the purchaser may wish to nominate, but are not transferable.
Since the classes are tailored to the individual, the recipient can begin working on any of the courses available at those sessions. Gift vouchers are valid for four months from the date they are gifted, except for the ten class voucher, which is valid for six months. Gift voucher recipients should aim to complete their classes within ten weeks of first use unless other arrangements have been made.
The teachers can advise on where it is best to begin, based on the student's aims and their level of experience.
Prices are correct at 01 07 2018
Call us on 07 31617897 or contact us here to leave your details.
Gift Vouchers for Atelier Art Classes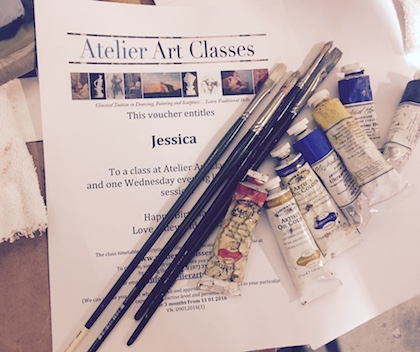 Personalised gift vouchers:
Includes all drawing materials & PDF of voucher.

1x Class: $65
3x Classes: $170
5x Classes: $240
10x Classes: $515